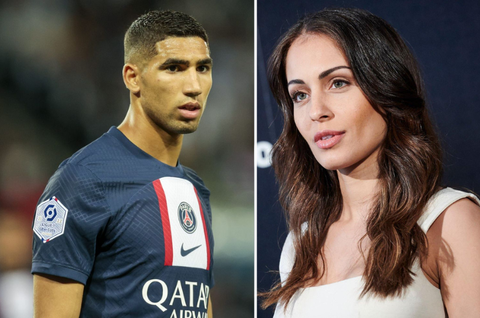 Achraf Hakimi and His Ex-Wife Hiba Abouk


Achraf Hakimi is a professional football player from Morocco, known for his skills as a right-back. Born on November 4, 1998, in Morocco, Hakimi began his youth career at Real Madrid. He made his debut for the senior team in 2017, playing in the UEFA Champions League against APOEL Nicosia.
Hakimi spent the 2018-19 season on loan at Borussia Dortmund, where he made a significant impact. He scored his first two Bundesliga goals in his debut match and went on to make a total of 73 appearances for the club, scoring 12 goals and providing 17 assists.
In 2020, Hakimi signed for Inter Milan, where he played a crucial role in helping the team win the Serie A title in the 2020-21 season. He made 45 appearances for the club, scoring seven goals and providing eight assists.
In July 2021, Hakimi joined Paris Saint-Germain for a reported fee of €60 million, becoming one of the most expensive defenders in football history. He has continued to impress at PSG, with his pace, dribbling skills, and attacking prowess making him a valuable asset to the team.
For the most part, Achraf Hakimi is a talented and dynamic player who has made a significant impact on the football world in a relatively short period. With his youth and potential, he is set to continue making waves in the years to come.
Also Read: Facebook Changed Its Brand Name to 'Meta' But Why? - Here Are Top Reasons
Hakimi has also represented the Moroccan national team since 2016, making over 40 appearances and scoring eight goals. He has been praised for his versatility, as he can play on either side of the defense and in midfield.
Recently, Achraf Hakimi, the Moroccan footballer who currently plays for Paris Saint Germain and the Moroccan national team, has made headlines worldwide after his wife discovered he did not own any property or money, despite earning millions of euros. The discovery was made during their ongoing divorce proceedings in court, where his wife, Hiba Abouk, requested half of all his property and money.
To her surprise, she found out that Hakimi had registered all his properties and money in his mother's name. Whenever he needed anything, he would ask his mother to buy it for him, including houses, cars, clothes, and jewelry, and millions in salary were deposited in accounts bearing his mother's name. According to reports, 80% of everything he owns is registered in his mother's name.
The couple began dating in 2018, got married in 2020, and have two sons. Hiba filed for divorce in March 2023, citing irreconcilable differences. The investigation into Hakimi's alleged rape in Paris, France, was the final straw in their deteriorating marriage.
Hakimi's decision not to register his wealth in his name has garnered worldwide attention, with some praising him for being 'wise' and a living legend in asset protection. Others, however, criticized Hakimi and his mother for what they see as a questionable financial arrangement.